Disclaimer: This website is for informational and entertainment purposes only and should not be taken as medical advice. This site contains paid advertising and affiliate links, from which we may earn a commission when you click (at no cost to you).
Read More
.
Pregnancy hormones can affect your emotions so that even you can't recognize yourself. Come the third trimester your hormones have kicked into high gear and you may find yourself crying at commercials or the fact you have run out of milk. These mood swings and a tendency for tears are part and parcel of a normal pregnancy. Your hormones combined with fatigue, discomfort, fear, and insecurity intensify your emotions and crying more than normal is just one side effect which can occur.
So what can you do about these crying spells?
1. Don't overthink it. You are pregnant and your body is bound to be going through some emotional changes. Having a baby is not easy.
2. Be kind to yourself. If you need to cry, then cry. Let the emotions play out and you'll feel a lot better than if you ignore them.
3. Communicate. Let others know you might be acting a little weird for a while. Your husband or partner understand that you might be a little on edge however they may not be expecting you to burst into tears just because they forgot to pick up the dry cleaning. It might be in your best interests to warn them to expect the unexpected for the time being.
4. Meet with other expecting moms. Know you are not alone and that there are other moms out there who are probably going through the same thing. Join a group and talk about it. Hearing other stories of moms who are undergoing similar issues will help you a lot. You might even learn to laugh about it once the crying has eased.
5. Get some sleep. Lack of sleep will only heighten your rollercoaster emotions. A full night's rest might at least ensure you handle yourself better in these tricky situations.
6. Enjoy the outdoors. A walk outside can do wonders for balancing the emotions and putting things into perspective. Exercise is good for you and the baby so you can enjoy the dual benefit while you are strolling around the block.
7. Add some new smells to the mix. Aromatherapy can help relax and calm you, plus influence your perceptions of what you associate with certain good or bad smells.
8. Eliminate stress. If there are aspects in your life which are causing unnecessary stress, then it might be time to step down from those responsibilities for a while. You have enough on your plate when you are pregnant without any extra concern from other areas of your life.
9. Face your worries head-on. Worried about the birth, in-laws, money, job or your relationship? You may be surprised how many problems you can solve if you reach out for help or give them some serious thought. There are options to work from home, a good counselor can help with relationship issues and a birth doula can help with both pregnancy and postpartum worries.
10. Make sure you have all the right vitamins. Most pregnancy supplements are synthetic, difficult for your body to absorb and are passed in your urine. Natural supplements, including natural iron and folinic acid (not to be confused with folic acid), can help you maintain energy and feel better.
11. Eat happy food. Have a favorite food? Veg out. Otherwise, eat foods like cashews and bananas to help improve your mood.
12. Influence your own emotions. Do something that makes you smile or laugh. Watch a romantic comedy, go out for dinner, visit a show. Make it your goal to get out and do something you really enjoy at least once per week.
13. Deal with pain. Pregnancy pain is common, varying from cramps through to major aches and pains. When you're in pain, you don't feel yourself. Magnesium is a great way to reduce nausea and muscle pain and heat packs can help with pain too. Drinking plenty of water will help relieve braxton hicks. If you have regular pain that's bothering you, see your doctor or visit a physiotherapist.
14. Get some sunlight. Vitamin D is important but one of its extra benefits is balancing female hormones which is a big plus in pregnancy. Get some sunlight every day.
15. Mindfulness or meditation. Sitting still can be hard when you're used to always being busy or continually reading or watching things. However studies have shown that relaxation activities, done daily even for a short time, can have a big impact on mood and productivity.
16. Yoga. Pregnancy yoga is a great way to relax and keep your body fit and pain free. Bonus – you can do it at home.
17. Seek help from a professional. If you are concerned speak to your doctor. Even though you might know it, sometimes a little bit of reassurance from a professional can go a long way. Explain to them what you have been going through and see what advice they can offer. If you think it is more than just pregnancy hormones, you may be suffering from antenatal depression a very real and not uncommon depression experienced during pregnancy from hormonal changes.
Pregnancy can be extremely overwhelming and your emotions can be all over the place but this is totally to be expected. Focus on the baby to come and remind yourself that this period will not last forever. Enjoy the positive periods and smile wherever possible to counteract these negative emotions; and most importantly be kind to yourself whenever you can.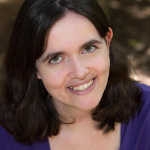 Latest posts by Susannah Birch
(see all)