Disclaimer: This website is for informational and entertainment purposes only and should not be taken as medical advice. This site contains paid advertising and affiliate links, from which we may earn a commission when you click (at no cost to you).
Read More
.
If you're pregnant, you're very likely being told by a dozen different people what you do or don't need for your upcoming addition. From the controversial to the mundane, you'll get mixed opinions on everything you decide to buy (or not buy) for your child. There's one thing we love in a nursery though – mobiles.
Why are mobiles an amazing addition to a nursery? Not only do they keep baby entertained as they grow older, they also make a lovely way to add to your decor and they're a unique and beautiful present for a baby shower.
Below you'll see some of the beautiful hand crafted felt flower mobiles available at Thread & Heart. We think they're an amazing find. Let us know what you think, in the comments.
Peony and Lavender Felt Crib Mobile
on Etsy
Purple Wisteria Crib Mobile
on Etsy
Sunflowers Felt Crib Mobile
on Etsy
Anemone Felt Flowers Crib Mobile
on Etsy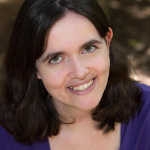 Latest posts by Susannah Birch
(see all)