Disclaimer: This website is for informational and entertainment purposes only and should not be taken as medical advice. This site contains paid advertising and affiliate links, from which we may earn a commission when you click (at no cost to you).
Read More
.
There is nothing wrong with being familiar with your body and this includes inside the vulva, vagina and the outside of the cervix.
If you plan to feel your cervix, it's a good idea to cut your nails short, wear gloves and/or have clean hands. A place like the shower is a good place to try. Although some people recommend trying on the toilet, this isn't exactly the cleanest place to go exploring yourself!
Checking your own cervix means you can go at your own pace. Doctors can be in a rush and the fact that you're stressed because someone is poking a gloved finger into your vagina is more likely to make an internal check even more uncomfortable or even painful. Remember that it is your right to refuse any medical procedure – this includes internal vaginal exams. Before birth, they don't give any important information (unless you have a specific medical problem) and during labor they are only needed in cases where there may be an issue with the baby or doctors need to know how far you are before giving medications, not just as a matter of 'routine' or 'by the clock'.
Squatting shortens the vagina and is a good way to feel for your cervix. It's at the back of the vagina and feels almost like a squishier version of the tip of your nose, with a tiny dip in the middle. When you begin to dilate, the tip will be as big as a finger, which is the equivalent of 1cm. Each fingertip is counted as 1cm of dilation.
The vagina is a closed area and there are only two ways in or out – the vulva (your outer genitals) and your cervix (the exit point of your uterus). However some women may not be able to find their own cervix and this isn't a cause for alarm. Some reasons you may not be able to find your cervix include:
If you have an posterior (backward facing) cervix. These types of cervix' usually dilate and then move towards the front during labor. In some cases, doctors have a hard time reaching these types as well, before labor.
If it's your first pregnancy. Although some women can feel their own cervix, the muscles are usually tighter and higher, so your cervix may be higher up than if you've had one or more births.
There are times where it's not a good idea to check your cervix, either due to the risk of infection or because labor may be about to start and any internal exams can irritate the cervix.
If your waters have broken. If your amniotic sac has broken, or a doctor has broken it, internal exams should be minimised, by either you OR your doctor.
If you are experiencing unexplained bleeding or are high risk. If you are at high risk for an issue relating to your cervix or a placental issue, it's best to check with your doctor before doing your own internal exams.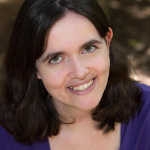 Latest posts by Susannah Birch
(see all)