Disclaimer: This website is for informational and entertainment purposes only and should not be taken as medical advice. This site contains paid advertising and affiliate links, from which we may earn a commission when you click (at no cost to you).
Read More
.
Inductions are quite common in many western hospitals, often for non medical reasons. Many women aren't made aware of all the risks associated with induction so they don't have a chance to make an informed decision. Sometimes they're aware of the risks but believe that an induction is medically necessary. No matter the reason for inductions, they happen – so this guide is for women who are booked in for an induction and want to decrease the risks, pain and complications which often come with them.
.
Two major risks of induction:
Stalled Labor – Labor won't progress any further or baby appears to be stuck.
Fetal Distress – Drugs such as pitocin can increase the risks of distress.
.

1.
Make Sure You Need an Induction
Although many women may believe they need an induction, in some cases they may not. Some common reasons which DON'T always require an induction include:
A big baby. Ultrasounds are very inaccurate in the last trimester and without a medical reason such as GD, a suspected large baby is not a reason to induce. [More information]


.

A small pelvis. It's very rare for a woman to truly have a pelvis too small to birth a baby. This was much more common before proper nutrition, for instance in women who had rickets. [More information]


.

A long gestation. As long as mother and baby are healthy, there is no reason to induce before 42-43 weeks. Studies indicate that risks do not greatly increase before this gestational age. As inductions have a range of risks too, it's generally safer to continue the pregnancy rather than induce if there is no medical reason the baby needs to come out.


.

A VBAC. Some doctors may tell a woman that she needs to go into labor before her due date if she wants to have a VBAC (vaginal birth after csection). However, as above, there is no reason a woman can't go for a longer gestation before attempting a VBAC. [More information]
2.
Get Things Started on Your Own
If you know ahead of time that you'll be having an induction, you can get things started on your own. Some of the best ways to start cervical changes at the end of pregnancy include:
Dates – One study showed that eating raw date fruit at the end of pregnancy has a positive effect on the cervix and is sometimes associated with faster and easier labors.


.

Evening Primrose Oil Capsules – EPO contains gamma linolenic acid (GLC) which converts linolenic acid into prostaglandins, which can help ripen the cervix. However EPO has a range of risks, so

read this first

.


.

Sex – Good sex releases oxytocin which can help with cervical ripening and preparing the uterus for birth, along with the small amount of prostaglandins which are present in semen.


.

Stretch and Sweep – Although still an induction method with its own risks, it can be done without progressing onto further induction methods immediately. This means that it can be a good method to get things started without going the full induction route.
3. 
Find Out Your Bishop's Score
The Bishop's Score is essentially a calculation of how successful an induction will be. The score is based on baby's station and the firmness, effacement, dilation, consistency and position.
The score ranges from 0-13, with a higher score indicating a higher chance of success (although this is still not a guarantee). Check out this page which can help you calculate your bishop's score. It also takes into account previous pregnancies, pregnancy complications, baby's position, cervical changes and gestation of the pregnancy.
4.
Have a Birth Plan & a Doula
Doulas have been shown to lower the risk of c/section by 60-80%. A doula is a birth coach and assistant who can help provide mental, emotional and physical support during pregnancy, birth and postpartum.
A birth plan is a great way to know your options. It's often better to have a birth "flow chart" which includes preferred options for any complications that occur, instead of just your 'perfect birth'. Here is a guide on writing birth plans which includes many things that mothers may not be aware of.
5.
Be Involved in the Induction Process
There are a range of common medical induction methods and the decisions on which method to use can vary based on your doctor, your cervix and your gestation. Some methods have higher risks or are not as effective, so discuss with your medical care provider using less invasive or less risky methods first. Make sure you do your own research and make an informed decision.
Some of the most common methods include:
Cytotec (Pill) Misoprostol (Banned in many countries due to risk)
Prostglandin gel

 such as Cervidil

Cervical balloon – transcervical foley
AROM (Artificial Rupture of Membranes)
Pitocin/syntoconin drip
6.
Know Your Time Limits
Once an induction method has been started, you will be 'on the clock'. This means that if it doesn't work within a set period of time, your medical care provider will move onto another method.
Find out how long you can go before another method is used and if there is any leeway based on how well you and baby are progressing.
Use the BRAN method to decide if you need another intervention right now, or if you can wait:
Benefits
Risks
Alternatives
Not Now But Maybe Later
Remember that it is your legal right to refuse any medical procedure or request, or ask for a compromise.
7. 
Get Off The Bed
Laying on the back or in a semi-reclining position to labor & birth increases risks of painful, long labors, tearing, assisted birth and a stuck baby.
If possible, laboring and birthing while in an upright position such as standing, squatting, kneeling or on all fours will have a huge range of benefits.
Read this article on 10 Reasons Not To Give Birth On Your Back.
.
8.
Ask for Portable, Intermittent or FSE Monitoring
Continuous monitoring during labor has been shown to be ineffective and have its own associated risks. [More information]
If possible, ask for a form of monitoring which will allow you to move around and be more comfortable.
Intermittent Monitoring – This means that baby is only monitored intermittently – such as once every hour or half an hour. This can be used with some induction methods but generally is not recommended once you've started pitocin.
Portable Monitoring – A portable band transmits information to the monitoring machine but doesn't require any annoying attachments or cords. These can be used while walking or even in the shower.
FSE (Fetal Scalp Electrode) – This is a small electrode placed into the baby's scalp. The best time to insert this is usually when your waters are broken. This option also allows you to move around.
9.
Eat & Drink During Labor
Eating and drinking during labor is important, particularly if you have a long labor. Not eating leads to lower blood sugar, less energy and a higher likelihood that you will tire easily as labor progresses.
Many hospitals use outdated policies which state eating and drinking is unsafe due to the risks of aspiration in the event of a csection. However this is based on information from the 40s and is no longer as relevant to today's methods of anaesthesia and c/section. The risks of NOT eating during labor far outweigh the risks of doing so. Eating & drinking in moderation has even been shown to decrease labor times. [More information]
10. 
Avoid the Epidural
Although in some labors, an epidural may be needed (such as if you have high blood pressure), avoiding it will decrease the risks of tearing, pelvic floor injury, c/section, stalled labor, assisted birth (forceps) and many other complications.
If you do need an epidural, there are things you can do to help with the birth:
Ask for frequent position changes.
Use a peanut ball or pillows between the knees to help with rotation and position of baby.
Aiming for a drug free birth? Check out this guide on 45 natural labor pain relief methods.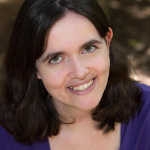 Latest posts by Susannah Birch
(see all)