Disclaimer: This website is for informational and entertainment purposes only and should not be taken as medical advice. This site contains paid advertising and affiliate links, from which we may earn a commission when you click (at no cost to you).
Read More
.
So you're close to the end of pregnancy and you're really sick and tired of heaving around a basketball belly.
Now you're wondering how you can make your waters break. Before you try, you need to read this:
Only 10% of women have labor start with their amniotic sac breaking.
The amniotic sac is designed to protect baby from the force of contractions until the end of labor.
Once the amniotic sac is broken, there are two main risks:
1. PROM (Premature Rupture of Membranes) where the waters break but labor does not begin.
This can lead to care givers worrying about infection so is often followed by induction or augmentation of labor.
Although studies show that induction often isn't needed, it can be hard to argue this with your doctor and you may end up with interventions you don't want.
2. A more fast paced and difficult/painful labor.
Without the extra support of the amniotic sac, the baby's head is pushed down into the pelvis (think of when you take a plug out of a plug hole).
This can often lead to contractions being much more erratic and painful, and sometimes increase the risk of baby coming out too fast, causing more injury to mother and/or baby.
There are other possible risks as well, if the waters are broken too early, including cord prolapse, which can be quite dangerous.
Although some doctors may break the waters near the end of labor "because they won't break on their own", this is not a good reason to break them.
The waters often naturally rupture right before baby comes out, or baby can even be born inside them ("born inside the caul"). AROM (Artificial Rupture of Membranes) increases the risk of cord prolapse.
It can also make labor more painful.
Remember, you can legally refuse any medical intervention or ask for more information.
So now we've got that out of the way, how can you get labor started at home? Well you can try this list of:
Dancing, galloping, swaying on all fours, birth balls and squats are the most likely to make your waters break.
But for the reasons outlined above, we recommend not trying to break your waters, but instead either wait for labor or do gentle methods of natural induction.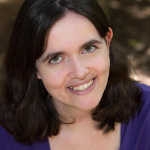 Latest posts by Susannah Birch
(see all)