Disclaimer: This website is for informational and entertainment purposes only and should not be taken as medical advice. This site contains paid advertising and affiliate links, from which we may earn a commission when you click (at no cost to you).
Read More
.
Pregnancy is accompanied by many new feelings, pains and changes, not the least of which includes a lot of strange things happening down below.
It can be scary to have bleeding or strange discharge during pregnancy, but most of the time this is completely normal. As long as you're informed on what to expect, and know when to see a medical professional, you won't have any problems.
Below you'll find an explanation of some of the most common causes of pregnancy bleeding and discharge including ones that you may experience during the first and second trimester, as well as closer to going into labor.
Abnormal Discharge and Bleeding
If you experience any of the following, it's important to see a medical professional as soon as possible:
Yellow/Green Discharge – This may indicate an infection or thrush.
Extreme Pain or Itching or Issues When Urinating – An indication of a urinary tract infection or thrush.
Bright Red Blood – Bright red blood is usually fresh and can indicate a hemorrhage, miscarriage or other problem.
Clots or Heavy Blood Flow – This may indicate a miscarriage, problem with the placenta or some other issue.
Continual Bleeding – If you experience bleeding that continues for more than a few hours or spotting that occurs for more than a day. Or if you find that you're changing a sanitary pad more than once per hour.
Bleeding with Placental Issues – If you have a low laying placenta or placenta previa (placenta is laying over the cervix) and your experience any bleeding or other issues, you should seek medical advice.
Implantation Bleeding
Egg Implantation Bleeding
Implantation bleeding occurs when the fertilised egg implants into the uterine wall after making the journey down from the ovaries. The bleeding can range from just a few spots of blood through to a heavier bloody discharge – although it's generally quite a bit lighter than a normal menstrual period.
This type of bleeding occurs generally between 7-10 days after the date of conception. However some women never experience it at all or in some cases mistake it for a light period.
Placental Implantation Bleeding
When the placenta grows and then implants into the uterine wall, loss of brown blood or spotting is not uncommon. Unlike egg implantation, placental implantation generally occurs after 6 weeks gestation and can occur anywhere up to 14 weeks.
Decidual Bleeding
This is the name given to fake periods during pregnancy. In most cases decidual bleeding is not a problem and will not stop you from havin a healthy baby.
This is also one reason a woman may not know she is pregnant.
You can read more about decidual bleeding here.
Bleeding After Sex
What's normal?
It's not unusual to have a small amount of spotting after sex. If you experience spotting and you know you have a low laying placenta or placenta previa, you should seek medical advice, however.
It's not unusual to experience some mild cramps or braxton hicks after sex, especially in the third trimester. Orgasms cause the uterus to contract.
Semen contains a very small amount of prostaglandins which can soften the cervix. However sex only has a tiny chance of inducing labor and even smaller chance if your cervix is not ready. Unless you've been placed on pelvic rest by your medical carer, sex is rarely a problem in pregnancy UNLESS your waters have broken. Dilation, effacement and losing your plug are not reasons to abstain from sex (unless advised by a medical carer).
If you experience bleeding that is more than a few spots of blood, or painful cramps or other issues, always seek medical advice.
Spotting
Spotting is quite common in early pregnancy and is used to describe any type of very light bleeding that there doesn't appear to be a specific reason for. Sometimes spotting may occur following sex or over exertion or it may happen without any obvious reason.
Some pregnant women experience fake periods throughout their pregnancy (decidual bleeding), while others experience light bleeding for the first few months (when their periods were due) as their body adjusts to pregnancy.
Although spotting can just be your body's normal adjustment to pregnancy and increasing blood flow in your body, you should always talk to a medical professional if it continues for more than a few hours or turns into heavy bleeding. Read more about bleeding in the first trimester.
Experiencing bleeding that your doctor says isn't a problem but still worries you? Make sure you're taking Vitamin E and natural Iron.
Snot & Bloody Noses
Due to the extra blood in the body and pressure on the blood vessels (and all those other fun things going on!), pregnant women are a lot more likely to experience runny noses and bloody noses.
Runny Noses – Are usually fine as long as the mucous is clear and runny. If it changes color or you feel stuffy, look at some natural remedies or see your doctor.
Bloody Noses – Are very common, especially in the third trimester. Unfortunately there isn't much you can do to avoid them, other than clean them gently with a clean warm cloth and avoid hurting your nose in a way that may restart any bleeding.
White/Cream Discharge
During pregnancy, normal discharge increases and some women find it easier to wear a panty liner to accommodate it. Normal discharge can range from clear through to white or cream and at some times during your pregnancy can occur in quite large amounts. However this shouldn't be confused with the bloody show which is more glob like and often contains traces of blood.
As long as your discharge doesn't fall into any of the categories listed above under "abnormal discharge and bleeding", then your discharge is probably a normal part of your pregnancy.
The Bloody Show
Experiencing a small bleed at the end of pregnancy (red toilet paper when you wipe, but no more) and/or having glob like clumps of yellowish jelly, often with streaks of blood, are both part of your "bloody show" as your cervix begins to soften and open. The blood is caused by the expanding cervical blood vessels, while the mucous plug is what seals the inside of the cervix.
The mucous plug is a jelly like mass of yellow cervical mucous and small amounts of blood that block the cervix to protect the baby from bacteria or other outside entities before labor begins. You may lose it in small pieces or in one large chunk. Some women do not lose the plug until they are in labor.
Although this is quite a common symptom that labor has started or is about to start, it is not a definite sign that baby is ready to arrive. You may want to alert your midwife/doctor to the fact you've experienced the bloody show, however don't worry too much if they don't react with too much excitement.
The mucous plug, made of uterine secretions, can start to regrow if you don't go into labor within 2-4 days after you lose it and in some cases women lose a plug weeks before labor.
After your baby is born and you've birthed the placenta, you can expect to experience bleeding for 1-6 weeks. It's not unusual to pass clots for up to six weeks following birth, but if they're accompanied by pain or a high temperature, it's important to seek medical care as you may have an infection.
Postpartum bleeding (known as lochia) is often heavier than a period for the first few days or weeks. You cannot use tampons, menstrual cups or any other internal menstrual products till your lochia ends, as your uterus is still open and at higher risk of infection (plus that area will probably be a bit too tender for you to want to put anything inside). So when will you get your period back? Well that actually varies woman to woman. It could be two weeks or two years! Read more about postpartum periods.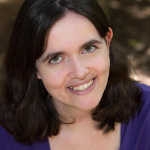 Latest posts by Susannah Birch
(see all)