Disclaimer: This website is for informational and entertainment purposes only and should not be taken as medical advice. This site contains paid advertising and affiliate links, from which we may earn a commission when you click (at no cost to you).
Read More
.
Hemorrhoids are painful swollen blood vessels in the rectal area that are common in pregnancy due to the extra pressure of your uterus on major blood vessels and the pelvis. Constipation is another common cause of hemorrhoids and is also quite common in pregnancy.
Hemorrhoids can cause bright red bleeding if they rupture. Although this may be painful but harmless, if you ever experience bleeding which worries you, you should always talk to a medical professional.
Below you'll find a list of ways to avoid hemorrhoids as well as how to find relief if you are already experiencing them.
How To Avoid Pregnancy & Postpartum Hemorrhoids
Do kegels but make sure they're accompanied by regular squats, so all muscle group are worked, instead of just one section.
Drink plenty of water. 2L per day (8 glasses) is a good general rule.
Eat lots of fiber. Fruits, vegetables, healthy grains and beans.
Avoid sitting, standing or laying for long periods of time. Move around, lay on your side or go for a walk.
Be careful with laxatives. Forceful laxatives can increase the chance of developing hemorrhoids, so choose a gentle or natural alternative instead.
When you need to go, go – the longer you wait, the more chance you'll have issues.
Don't push or strain too much. Your body naturally pushes without your help, so keep pushing to a minimum and instead only help your body along with short pushes and hold for a few seconds, instead of deep straining pushes.
Avoid sitting too long on the toilet. This can place extra pressure on the anus, so if nothing's happening, take a walk and try again later.
Pain Relief For Pregnancy & Postpartum Hemorrhoids
Avoid hard surfaces, instead sitting on a cushion or inflatable tube seat.
Carefully check your prenatals – iron can cause constipation, so look into taking a more natural iron supplement.
Do daily

inversions

to take some pressure off the area.
With clean fingers, push the hemorrhoids back up and do some kegels.
Avoid strong spices or foods with a slight laxative effect.
Try applying grated raw potato and baking soda compresses to ease the pain and relieve itching.
Cold compresses or covered ice applied to the area several times per day to relieve the swelling.
Witch hazel medicated cooling pads such as Tucks (see right).
Take an epsom salt bath to relieve the pain.
Avoid scented or colored toilet paper. If needed, use baby wipes or wet toilet paper to clean after a bowel movement – just remember not to flush them or you'll clog your pipes!
Use a step stool to elevate your feet when you need to go to the toilet.
Take a teaspoon of oil (such as coconut oil or mineral oil) with your meal to allow for easier bowel movements.
Tylenol (paracetamol) can help with pain relief.
Squat on the toilet – the best method is placing a tall stall in front of the toilet bowl for your feet. Squatting is the most natural way of relieving yourself and makes it easier for your body to push everything out.
Ibuprofen can help reduce inflammation (should not be used in pregnancy).

Preparation H

cream (not to be used while pregnant or breastfeeding).
Suppositories – These small pills are inserted in the anus and gradually dissolve over time to release medication. They can contain pharmaceutical or herbal products. There are three types: v

asoconstrictors which tighten blood vessels and reduce inflammation, laxatives which ease bowel movements and analgesics which relieve pain.

External creams – there are a range of creams that can be applied to the rectum to provide relief and help with the healing process.
Aloe vera – applied fresh can greatly relieve pain and help with healing. Put it in the fridge before application for some cold relief!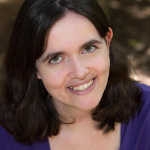 Latest posts by Susannah Birch
(see all)