Disclaimer: This website is for informational and entertainment purposes only and should not be taken as medical advice. This site contains paid advertising and affiliate links, from which we may earn a commission when you click (at no cost to you).
Read More
.
If your baby is engaged in your pelvis it can be very uncomfortable, feeling like baby is about to fall out and making walking difficult and even painful. Here are some facts about babies engaging:
• Babies can engage in the pelvis anywhere from 25 weeks all the way up to halfway through labor.
• Babies can engage and disengage.
• Just because your baby is engaged doesn't mean labor will start soon.
• Just because your baby HASN'T engaged doesn't mean labor will be difficult. Some babies engage and birth within hours.
So if your baby is engaged and making you very uncomfortable, here are some ways you can help bub move back up and out of the birth canal, or at least make you more comfortable.
• Inversions. Check out these instructions on forward leaning inversions, which both help baby into the most optimal position for birth and can make you more comfortable if done regularly. They help open up and 'untwist' the pelvis, which is a common problem, particularly if you favor one hip (such as carrying an older child.)
• Pelvic rocks, also known as pelvic tilts. These are easy to do, take weight off the mother's pelvis and can help reposition baby too.
• Kegels. Some women have had success using kegel pelvic floor exercises to either disengage their baby or strengthen their pelvic floor enough to ease discomfort. Keep in mind that kegels alone can lead to issues as the stronger muscles pull on the weaker ones around them, so regular kegels should be done in conjunction with squats to work all your pelvic muscles.
• Pregnancy belt. These support and help your pelvis deal with the extra weight.
• Elevated legs. Some women find that sleeping with their legs elevated on pillows and in a semi-reclining position takes weight off the pelvis and can be more comfortable.
• Use a birth ball – These are great during pregnancy for a soft and comfortable surface to sit on, instead of on a hard chair.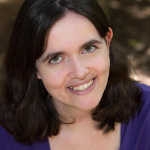 Latest posts by Susannah Birch
(see all)