Disclaimer: This website is for informational and entertainment purposes only and should not be taken as medical advice. This site contains paid advertising and affiliate links, from which we may earn a commission when you click (at no cost to you).
Read More
.
Can chocolate cake induce labor? Probably not. It's right up there with lemon cupcakes for ways you can enjoy your pregnancy but not induce labor. 
One of the earliest online mentions of this labor induction cake was on an old defunct blog called The Dirt On Pregnancy, back in 2008. Probably handed down through a family member or friend. 
Chocolate contains phenylethylamine which can have an effect on endorphin and oxytocin production.  It also contains caffeine. However most women drink coffee (caffeine) or kiss/hug their partners (which produces oxytocin), without going into labor. Not to mention, most milk chocolate contains very little of the main healthy ingredients which are beneficial for your body. 
On the plus side, chocolate cake isn't going to hurt you and if you believe that it's going to work (and haven't read this post) you may just have the placebo effect put you into labor. 
All pregnancy induction methods only work if baby and mother are ready for birth. If mother isn't ready, the methods won't work. Which is a good thing, because medical induction forces out baby whether the two are ready or not, or ends in a c/section.
Statistically, if enough heavily pregnant women eat or drink a certain thing, chances are that a percentage of them are going to go into labor at some stage shortly after. And another pregnancy induction myth is born. 
So with no further ado, here is the magical recipe, which might work better if you added in some healthy dark chocolate to the mix:
Ingredients:
Box of  Devil's Food Cake mix
1 package chocolate instant pudding
1 12-oz package chocolate chips
1 cup sour cream
Method:
Heat oven to 350F (175-200C).
Follow the directions on the cake box. Mix in the chocolate instant pudding, sour cream, and chocolate chips.
Pour mix into 2 x 9 inch pans.
Bake for 45-60 minutes or until toothpick comes out clean.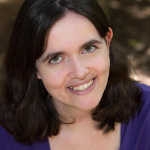 Latest posts by Susannah Birch
(see all)