Disclaimer: This website is for informational and entertainment purposes only and should not be taken as medical advice. This site contains paid advertising and affiliate links, from which we may earn a commission when you click (at no cost to you).
Read More
.
Many women like to be clean shaven but during pregnancy, this can present a clear challenge, especially with a big belly between you and your goal. So how do you shave during pregnancy? Here are some ideas:
Ask your partner to do it – This is more common than you'd think! Your partner probably shaves his face regularly, so he's no stranger to a razor. If he wants it shaved, ask him to do it for you!
Feel & Shave – This method takes some practice, but you can use your fingers instead of your eyes to figure out where you're going.
Lay down in the tub – Laying on your back in a tub can sometimes make it easier to either see or angle yourself to shave more easily.
Fogless mirror – You can use a mirror to help guide you, just remember everything will be back to front! You can buy fogless mirrors online. Stick the mirror to a wall, or place it on the floor for a good angle.
Wax – If you'd rather wax, go ahead. You can also try sugaring, which is a newer but more gentle hair removal method.
Razor Reach – Use an extendable razor so you can shave all the way down to your ankles without bending over!
Let the staff do it – Depending on which hospital you're going to birth at, they may shave you before birth. Check with your doctor ahead of time whether this is standard practice.
Hair Removal Creams – Some hair removal creams are safe for use in pregnancy, some are NOT, but make sure you read the warnings and use them in a ventilated area. Don't forget to spot test for skin reactions, too!
Leave it Natural – Doctors and nurses see far worse things in labor than hair! Some hospitals prefer you don't shave for several weeks leading up to your due date.

Read more here

on choosing whether to go natural or shave before birth.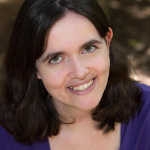 Latest posts by Susannah Birch
(see all)